Usually, the words "dance" and "mum", when put together in a sentence, invoke images of starry-eyed stage mums like Jessalyn Siwa or Jill Vertes, mothers of "Dance Moms" stars Jojo and Kendall. You know who I'm talking about, the kind that rolls their eyes, scream, and maybe even throw a punch now and then. But this Mother's Day we want to introduce you to the next hot trend of mammas here in Perth, and we're not talking the designer shoe wearing "Yummy Mummies". No, we're talking Dancer Mums. Mums that dance. Mums that escape the cray-cray world of school picks-ups, afterschool sports, and overdue homework by taking dance classes. They come from all over Perth and they cross different generations and backgrounds. But the one thing they have in common is dance – and they don't just love it, they live it, and this is what they want you to know.
Heidi, 41 years young mother of three beautiful children (2, 9, and 12 years old) previously graced the airwaves as a radio announcer.
Now as dedicated dancer mum Heidi takes adult dance classes in Jazz (her favourite), Ballet, Tap, Hip Hop, and Sexy Stilettos.
Heidi with her beautiful children
When asked, "how does dance help you 'mum'?" Heidi says, "I'm just a happier person when I dance. Which ultimately means a happier household." Heidi says that when it comes to dancing "You can learn new things about yourself. About what you're capable of. About pushing the boundaries physically mentally and emotionally. It's ok to feel out of your comfort zone because you'll feel a lot stronger coming out of it. You don't have to give up your life after babies. You can keep doing what you love for as long as you want. I started dancing at age 3, I was forced to stop at 13, and started again in my late 20's and haven't stopped."
Heidi performing on stage
Karen, 37 years young mother of 4 (1 bio, and 3 bonus kids ranging in age from 5 to 16 years) teaches adult dance classes in Flamenco.
She also regularly takes adult ballet classes and fits in a contemporary class when she can. Dance has always been an important part of Karen's life since she was a child. She says "Dancing keeps my sanity intact by giving me "me time," but also helps my daughters see why I am driven the way I am, and how exercise (mental and physical) is so important. It's also the perfect embodiment for being a role model – the importance of taking time for yourself, for indulging your passions and to show that continued growth and development never stops. Dance teaches resilience, perseverance, friendship, enrichment of your soul!!"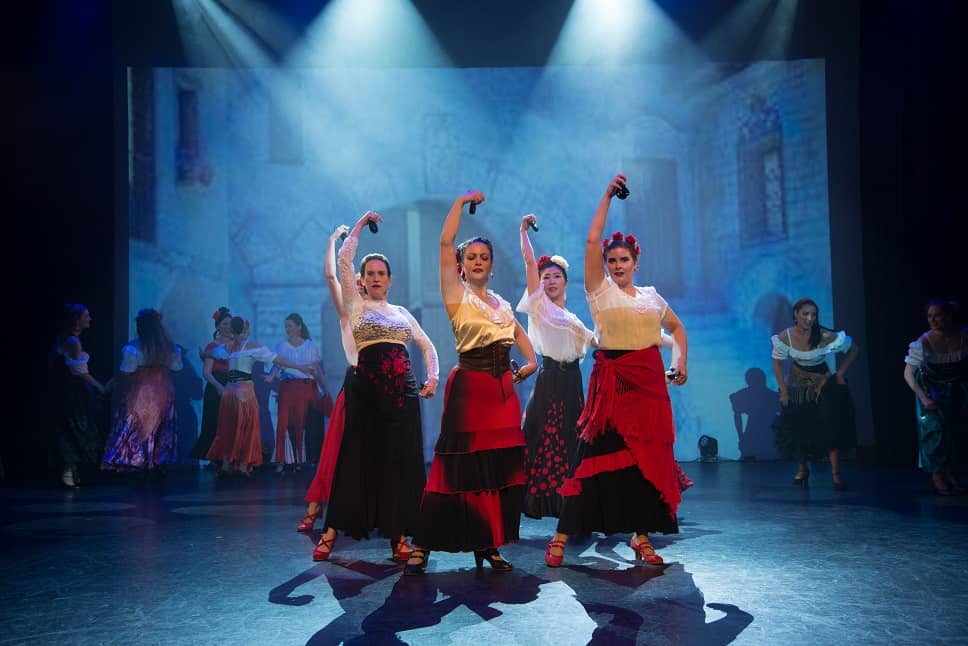 Karen performing on stage with her students
Karen with her daughter at a recital
Justina teaches Bollywood dance classes for adults, and says…
"I turn 45 this Tuesday. Nothing has kept me more alive than dancing. There is never a moment I am not dancing to a beat in my head or secretly twerking my booty to a rhythm. I met my husband of 25 years now, in a dance we performed together. I have three children: 20, 18, and 4 and I work full time. It's not at all easy to juggle home, kids, and work but dancing keeps me inspired. I teach and dance Bollywood but, for the past two years, I have completely come out of my comfort zone and started classes in Stilettos! Boy, I love it! Dance makes me feel young and free and with God's grace, I will dance till my last breath."
Justina performing a Bollywood Routine with her students
Justina with her daughter
Carole, 43 years young mother of 2 girls (10 and 13 years) says…
"I am so grateful I'm still dancing. I'm 43 years young. I was never the best dancer in the class and I'm still not. I take dance class because I love it. It keeps me fit, feeling young(ish), and keeps me reasonably flexible. I do it for me. I hope I'm setting an example for my two girls to find their passion and follow it into their adult years no matter how good or bad at it you think you may be. If you love it then do it. I take stilettos dance classes now but would sign up for everything if I could. Dancing is my therapy, I'm a better mum for it."
Carole performing on stage in stilettos
Carole with her daughter, doing what dancer mums do
Fifty-five years young mother of two (14 and 17 years), Caroline, is a French teacher and artist by day…
but once a week she takes some time out to take a Bollywood dance class. "When I was a kid and then a teenager, I didn't go to dance lessons but I used to spend hours dancing like crazy in front of a mirror to release all my feelings good or bad! And, that is something I still do! Dance is a way of expressing feelings through my body and to connect with music. Learning a dance routine is a wonderful way to be in joy. For me dancing and laughing are very similar as they both activate my 'happiness hormones' and make me feel alive. I guess dancing makes me a happier and funnier – sometimes even a crazy – mum! I think of dance as a practice of joy, what I'd like to impart on my children is that dance is part life, something that is fun but something that has a sacred meaning as well."
Artist and French teacher Caroline
Caroline performing on stage
Joji tells us, "Dancing at my age is a fulfilment of a childhood dream since I had many stop-and-go dance episodes in my life.
I have always wanted to go to dance class as a child but my mum was not supportive so when I started earning my own money at age 18, I enrolled at the Cultural Centre of the Philippines Dance School for modern ballet and jazz. This first attempt only lasted a few months as I had to move for work. In my late 20's I went back to jazz classes for a few months again. In my mid 40's I rediscovered my passion and finally performed my first dance recital. I turned 50 when we migrated to Perth ten years ago and began the fulfilment of my dance dream. My dance studio has become a second home… my 'dance fam.' This is the first time in my life that I have continuously attended dance classes. I'm always full of endorphins from dancing. That makes me happy and keeps stress levels down from having to deal with raising children with disabilities. Dance helps me teach my children to find their passion and work hard for it. As long as it comes from the heart, you will shine. Never ever give up on your dream."
Joji demonstrating retire passe position
Joji performing a tap routine
Joji performing a Broadway Jazz Routine
Hopefully, these superhumans have inspired you to get up and dance, or at least pursue your passions, whatever they may be. A "mum" can take various forms, but one thing we can all agree on is that all mums are superheroes. They juggle many jobs at the same time often putting themselves last. We hope that these dancer mums can inspire you to set aside some very important "me time" dedicated specifically to enrich your soul.