No matter what the dance style, we often get asked "What kind of shoes should I get?" Or, "I'm an adult trying dance for the first time and I'm not sure that I want to invest in a new pair of shoes. Are there other options?"
Well, I hope this blog post helps answer these questions for you.
Where do I get dance shoes from?
Firstly, not online!  Well, I strongly suggest against it especially if you're just starting dance lessons. Of course, if you're a seasoned dancer and know your size, make and model of shoe, online purchasing may make more sense.  Don't forget as you age your foot shape can change due to weight gain or loss, injury etc.  So, it is important to have your shoes fitted in store if you can. And well… it feels good to support a local business, right?
Ill-fitting shoes can result in injury or long-term foot problems. The fit and feeling of the shoe is very important. Similar shoes, in similar sizes can feel different from brand to brand. So, it is absolutely important that you try your shoes on and see how they feel when you put them on and walk (*cough* dance) around the store.  The staff at local dancewear stores here in Perth are highly experienced, and can offer a lot of advice at your fitting.
For your standard jazz, tap, ballet, and character shoes, as well as contemporary foot thongs, two places we can suggest are Studio Scene (fun fact, that was where I had my first real job while I was in university),  and Costume and Ballet Centre which is just down the road from our studio.  For Flamenco shoes the only local supplier of authentic Flamenco Shoes is Fuego Flamenco Dance wear.  It is operated by our very own Flamenco teacher Karen.
So how should they fit?
Since we're all adult dance students here at The Dance Workshop, we don't need to worry about keeping a "thumb print" of space above the toes for room to "grow". In general shoes should feel firm around the foot. But also, not too tight.  You should be able to press all toes flat against the ground when your feet are in a neutral standing position; your toes should not be "scrunched" at all. You want to feel like you could wriggle your toes slightly.
Ballet and Jazz Shoes
For ballet or jazz shoes, there shouldn't be any visible excessive folding or buckling of the shoe material.  They shouldn't feel as though they are sliding up and down the back of the heel when you stretch and flex your feet or rise onto the balls of your feet.
Tap, Flamenco and Character Shoes
For tap, character and flamenco shoes the firm fit may feel "tight" to begin with, but remember most leather and even vegan leather shoes will need breaking in/softening up.  You can take them to cobblers to stretch the shoe.
However, I prefer to wear really thick socks with the shoes when I first get them, and just keep them on for as long as I can at home. This way is much better as they can soften and stretch to the shape of your foot.  They'll be way more comfortable in the long run.
Heels/ Stilettos
As you know (or may not know) The Dance Workshop was the first studio in Perth to teach heels classes.  We started them way back in 2006 when I came back to Perth after my time away dancing overseas. So, it seems very relevant that heels get a mention.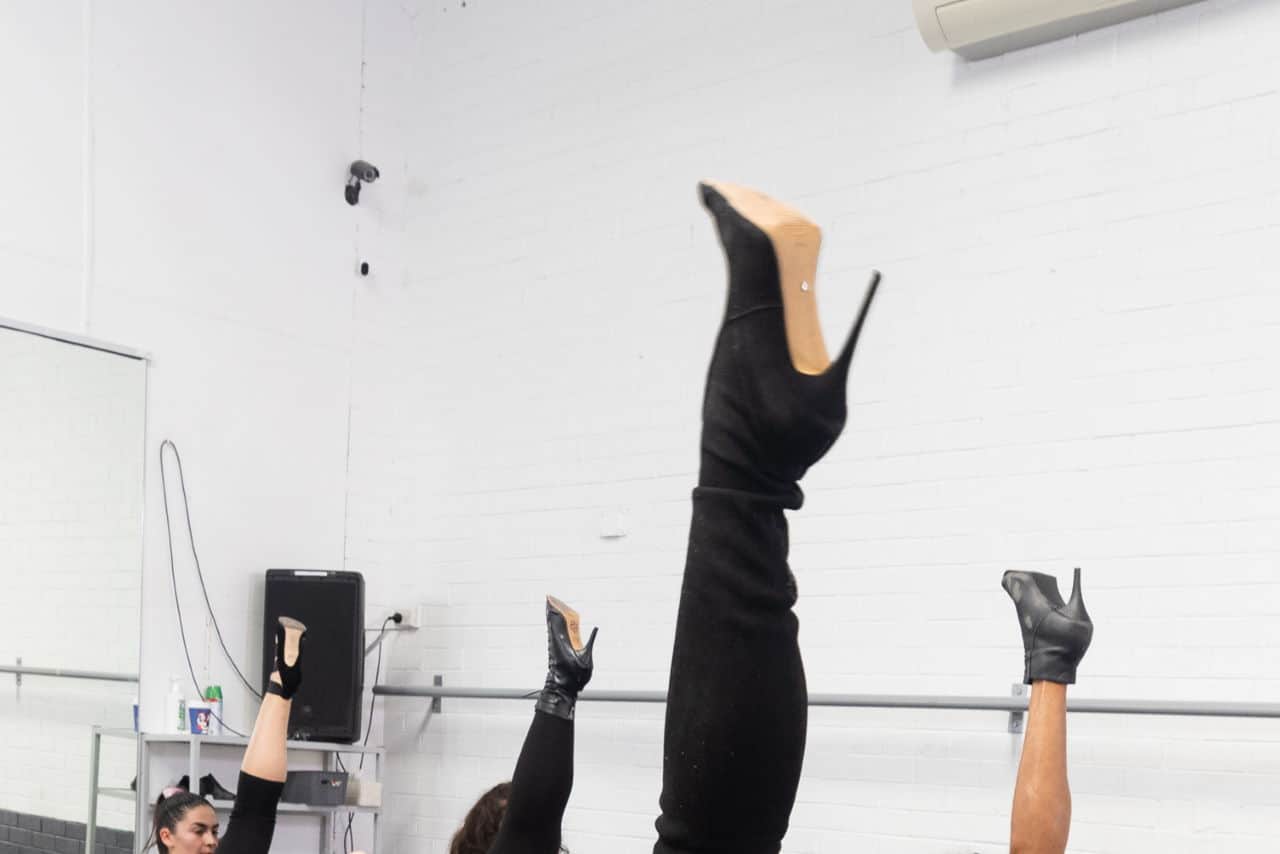 So, what heels do you wear to dance class. Now I don't mean the Chorus Line shoes you wear to jazz class. But heels. Stilettos. The kind you see on music videos.  Well firstly, for heels class you want to avoid chunky heels.  The chunkier the heel, the more room you have to let your body weight sit back on your heel which is not where you want it to be when you are dancing. And for the same reason, keep away from wedges and platforms. It's a NO from me when it comes to kitten heels, because well why bother?  It has to be a stiletto heel. The thin heel anywhere between three to five inches depending on your confidence and experience.
I recommend boots or anklet booties to provide that added support for your ankle, however standard pumps are okay too.   Definitely do not dance in open-back mule style shoes, or strappy shoes with buckle straps around the ankle.  Don't go for heels that are so high that they push your weight so far forward beyond the balls of your feet.  Also, avoid shoes that have a platform, or hidden platform at the front of the shoe as you want to be able to "feel the floor".
With this information go forth and purchase your shoes from your favourite outlet.  If you're game for purchasing online, my favourite place to get my dance heels is Burju.
What brands do you recommend?
Well, I don't really have any specific recommendations. I have my favourites, but they are my favourites based on my foot shape and how I like my shoes to feel. You can get dance shoes to suit various budgets. So sometimes it can come down to how much you want to invest in your dance shoes.
Dance shoes are essentially a "you get what you pay for" purchase.  As I said before, purchasing your first pair online is not ideal so please go into a store, if possible, especially for your first purchase.
Brands like Bloch and Capezio are well known around the world for supplying a variety of jazz, ballet and tap shoes suitable for dance students of various levels and budgets starting at highly affordable entry level shoes to the more expensive professional standard shoes.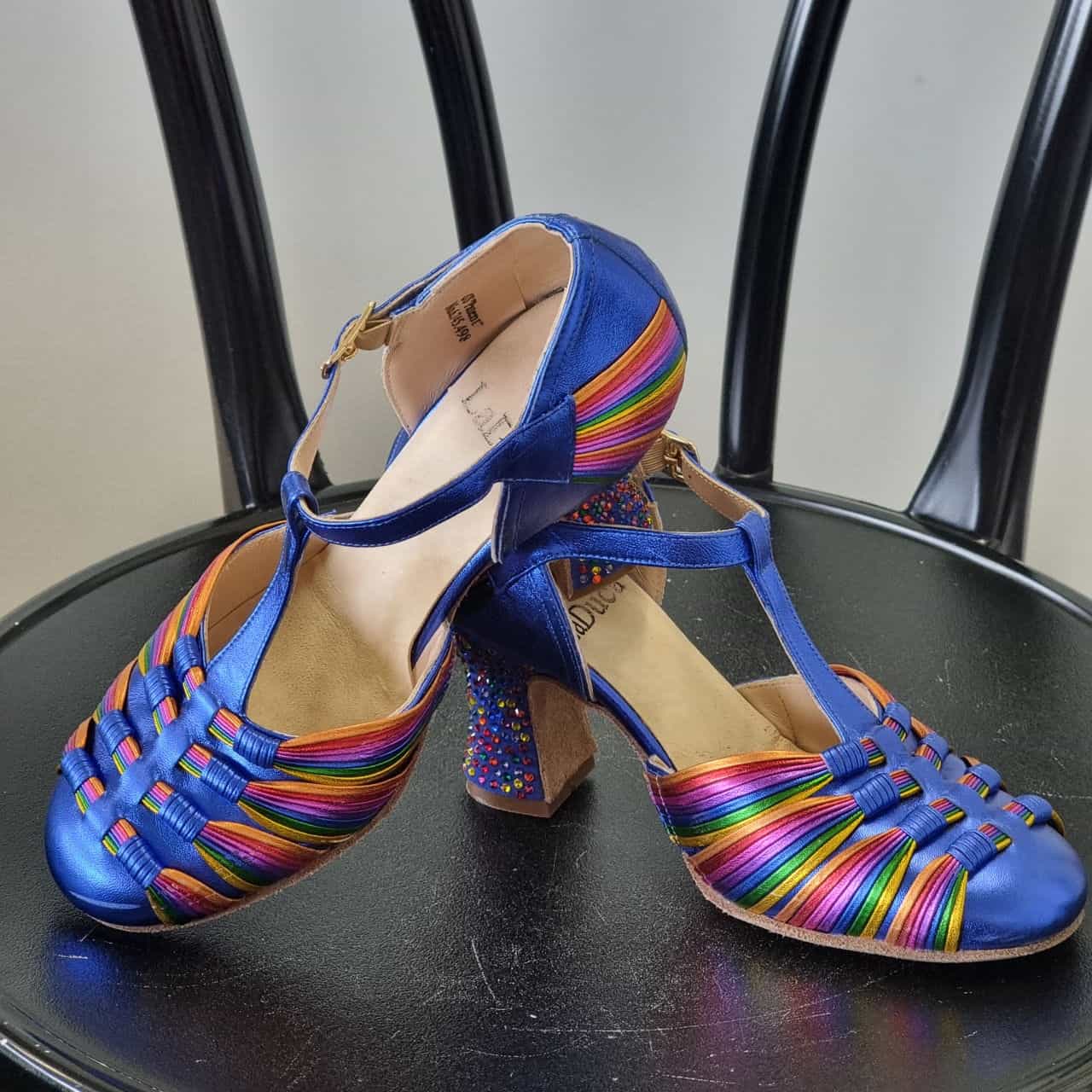 Enerjetiks is an Australian brand that has a range of affordable Jazz, Tap and Ballet shoes at very affordable prices great for entry level dancers.  Again, each of these brands size differently, and their shoes are cut slightly differently.  So, it is so important to try them on and see how they feel on your feet.
Then you have your very high-end shoes. Laduca and Freed come to mind.  You can purchase them off the shelve or have them custom made.  Capezio also have some shoe models that could fit into this category.  These are an investment and an indulgence all at once.  Heck it's like wearing a piece of art on your feet!
Conclusion
When beginning dance classes as an adult, for example in one of our Adults Basics Courses, sneakers are usually fine to begin with in Hip Hop or Jazz (or as we call it "Dance Basics").  Socks are usually fine in ballet class, and sometimes dancers may choose to go barefoot. As for tap.  We have several pairs of loan tap shoes that our basics students like to borrow, as well as a handful of flamenco shoes. It costs nothing, but they are borrowed on a first come first served basis, so you just have to make sure you get to class early enough.  Alternatively, any pair of hard soled shoes will do.
I didn't address Pointe shoes here, because if you're ready to wear pointe shoes you will be a seasoned dancer and know all of this.  If considering pointe shoes the first step is to talk to your teacher and find out if you are strong enough and ready to wear pointes before you go into the store.
Now that you know what you need to know when it comes to dance shoes, I wish you many happy hours of shopping and even more dancing!